I've never really had alot of friends, just one or two really good ones that have seemed to come and go but only one true friend whom I can say I feel will not leave me behind. I'm just not a people person, although I'd like to. So all that spare time that I could be out with friends I don't have is used up sitting in my bedroom, writing.

This is me at the age of five or six on the world's greatest horse. R.I.P., Eran.
I rise and fall like the ocean ebb
I struggle trapped in a spider's web
Forever I'm climbing a steep cliff's wall
Bracing myself, prepared for the fall
There's a cloud over my head today
But that's the same as every day
And my happy days are muchly cherished
Though most have promptly perished
I have a love uncommon to see me through
A friend to love me when I'm blue
And whenever I feel I'm ready to die
And it hurts so bad I cannot cry
I look to the sky, and look to the ground
And feel the wind that's blowing 'round
Hear the river's laughing sound
Taste the sun's rays beaming down
Know that I am not alone
Ignore the words that cut to bone
Thank you to all who see me through
Thank you, thank you, for all you do.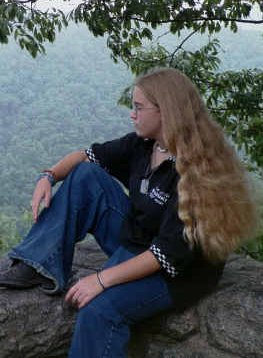 And this is me last summer, on vacation in the Blue Ridge Mountains. Just being inspired by their beauty.